Scottish Terriers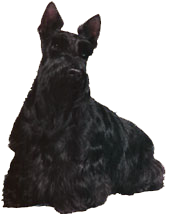 The Scottish Terrier is a feisty and loving breed, however they can also be fiercely independent,  not unlike other terrier breeds.  Our Scotties are loving and sweet, but can also stand their ground.  The newest litter has already had their first of many groomings and are handled on a regular basis.  They also spend quality time with my three young grandsons and are learning some basic commands and words.  Since they are a breed that requires regular grooming to maintain the true Scotty look, it is very important that they be comfortable with this process and they will be if started young.
The Scotty is basically a non-shedding dog. They will drop some undercoat. Their outer or hard coat continually grows, so it has to be hand-stripped (for show) or clipped approx. every 8-12 weeks, or they look like a little fur-ball.
Our adult Scotties range from approx. 19lbs. to 24lbs.
I have two new litters born 6/23 and 7/11/15.  At this time I have boys available for adoption.  They are all black.
The puppies would not be available to go to their new homes until they are 10 to 12 weeks old.
If you  would like more information please contact me by e-mail, (windynolkennel@msn.com) or call at (262) 835-4858.
**************************************
**************************************
---