About Us
We are a small boarding and grooming facility located in northwestern Racine County in Wisconsin. We are approx. ½ hr. south of Milwaukee, and ½ hr. north of Gurnee Mills, Illinois.  We are located on Hwy. 45 at 5mile Rd.
We have been raising and showing Scottish Terriers & Labrador Retrievers for over 39 years. We are also a full service grooming and boarding facility with experience in all breeds.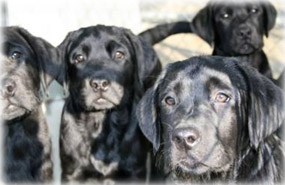 At Windy Knoll, we breed occasionally throughout the year.  All puppies are placed with a spay/neuter contract.  You may have limited registration at the time you purchase your puppy, or wait until you have the puppy neutered/spayed. After providing proof of the neuter /spay (copy of the Veterinarian bill) full AKC registration can be obtained. There is also a written health guarantee for hips/elbows and eyes (Labrador Retriever) and any genetic hereditary problem (both Labrador Ret. and Scottish Terriers), if any should arise.  We have shipped throughout the United States. If driving to pick up is not an option, shipping is available.
All shipping expenses are the responsibility of the purchaser.
All web/e-mail inquiries MUST be followed up with a phone contact.  We may ask for references, (Veterinarian,  Groomer, Trainer etc.) please do not feel offended by our request. We are very concerned where our puppies go and want them to have the best lives possible.  We expect that you might ask the same.
Thank you for visiting Windy Knoll.  If you have any questions please contact us.
---