Welcome to Windy Knoll Kennels!
A Full Service Dog Grooming & Boarding Facility in Franksville, Wisconsin
With over 150 AKC recognized dog breeds on file, there is a good possibility that there is a breed that would suit just about any life-style.  Owning a dog is a huge commitment and should not be a spur of the moment decision.  Dogs in general are first and foremost 'companions' and as such, should have someone coming home to them and spending quality time with them.
Training is very, very important and can be fun for all involved.  If your time at home is short, then perhaps an older, mature, trained dog would be a better fit, or even another type of pet that is less demanding of your time and physical presence i.e. cat, bird, fish, etc. would suite your lifestyle better.
The goal at Windy Knoll has been and will always be to produce a healthy, well-rounded puppy who is of sound breeding to standard, a loyal and loving companion, free of genetic inherited problems, ready and willing to fill that place in your family and your heart.  There is much effort taken to guarantee this at Windy Knoll.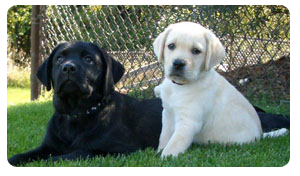 A well-socialized, trained and obedient dog is a joy to have in our lives.  This can only happen if you are willing to put the time and effort into doing the training. The training, when incorporated into your everyday routine, can be fun and a great source of exercise and fulfillment for both you and your puppy.
All breeds of puppies, from very young to adulthood, should be socialized around children of all ages if you want and expect them to lovingly interact, accept and respect these young versions of us adults.  Young children and babies are very different to our canine companions.